December 05, 2013 —
As editors, writers and photographers, our staff is lucky to have first access to wonderful imagery throughout the year. But often we learn at editorial meetings: Each of us has very different tastes. The next few pages give us a chance to reveal our personal favorite images that were either made or published this year—and show how many diverse opinions go into compiling a single magazine.

Jacqueline Tobin's Picks
RF Editor-in-Chief

Melly Lee's Underwater Antics

©Melly Lee

I particularly like this image's backstory of singer/songwriter and producer David Choi by Los Angeles-based portrait entertainment and lifestyle shooter Melly Lee. Not only did Lee convince Choi to take the plunge (literally), she also found a broken guitar for the shoot, and asked her engineer father for an industrial-style bag to seal her camera in (it worked!). As for the image itself, I like that Lee captured a relaxed subject—legs crossed, eyes peaceful and the feel that he could just be floating like that indefinitely.

"The shoot took about a half hour and it was the first time both of us shot underwater, so for the first couple of takes we swam around experimenting with settings, poses and composition," says Lee. "One of the biggest challenges was actually staying submerged; both of us kept floating upwards. The bubbles are real. David would hold his breath, dive down into the pool, then exhale all the air he was holding. Each take was about a minute (or however long we could each hold our breaths)."—JT

The Bar Scene by Tyler Chartier

©Tyler Chartier

One of my favorite images by Bay Area-based architectural photographer Tyler Chartier was this one, of bartender Louis Santucci. It was shot on location at the San Francisco bar Rickhouse while Chartier was documenting the space for a book project highlighting the use of reclaimed building materials in the city. After the commissioned shoot was finished, Chartier had the opportunity to take some personal photos using only available light. I like that while Chartier mostly shoots empty spaces for a living, he was intrigued by a person in the space and made it come alive. I can almost hear the din of customers and the shaking of cocktails when I look at this photo.—JT


Mitchell Leff's Spitting Image



© Mitchell Leff

Mitchell Leff—based in Philadelphia and one of Mayor Michael Nutter's official photographers—has an impressive personal portfolio filled with vibrant sports portraits that capture the essence of athletes and pivotal moments right before or after the action. This image of Kevin Small, first-base coach of Temple University's baseball team, is definitely a head-scratcher.

Leff, who used a Canon 1D Mark IV with a 300mm telephoto lens, explains how he got the seemingly implausible shot: "I keep both eyes open when I look into the camera, so I'm able to see what's happening on the periphery as well as what's in front of me," he says. In this case, while shooting the game, Leff saw the coach out of the corner of his eye and noticed he was spitting in a straight line. "For the next three innings, I kept my camera on him every time in between the action until I got this shot," he says. "The fun thing about baseball is the time in between pitches when you can look around and make a creative photo."—JT
---
David Carol's Picks
RF Columnist, Photographer and Writer

"Gary, Indiana," by Sean Rhode



©Sean Rhode

As a photographer, Sean Rhode is a "finder" of things. He hits the road using outdated Polaroid film and old Polaroid cameras. He drives and finds decaying bits of American history. He shows us our past and present at the same time. I often just peruse his images and let my mind wander. —DC

"Sofia," by Erika Huffman

©Erika Huffman

Erika Huffman is a photographic "interpreter" of people. She uses the subject's eyes, posture and attitude to isolate the rest of the world and draw us into his or her soul. Her portraits are so quiet and still yet give off so much energy. I find her portraits emotive and often haunting. —DC

From Heidi Horowitz's "Barbie" Series



©Heidi Horowitz
Heidi Horowitz is a "maker" of images who uses photography as a personal narrative. When you see her series of images, you wonder if they are autobiographical, playful, sarcastic or maybe all three. The photos work on many levels and I think it's up to the viewer to decide which one speaks to him or her. —DC

---
Jessica Gordon's Picks
RF Managing Editor
"Playing," by Bobby Doherty


©Bobby Doherty
I'm an avid reader of New York magazine (and obviously love food), so I'm consistently impressed by the publication's genius use of conceptual food photography with a sense of humor—much of which is shot by Bobby Doherty, an on-staff photographer for the publication. This particular image—an octopus on plaid—is from Doherty's personal work, spurred by his shopping experiences at Sunrise Mart, a Japanese market. "I was just totally inspired by the packaging and the food that they were selling," Doherty says. In an October 2013 interview with our sister publication PDN, 24-year-old Doherty said that he shoots images like these in-studio, often using paper backdrops and speedlights to achieve the vibrant colors.
—JG
Quang + Ellie Wedding Slow Motion Booth Still, Super Frog Saves Tokyo



© Blaine Ludy/Super Frog Saves Tokyo

Like everyone who saw it, I danced in my seat and loved every frame of this viral, slow-motion wedding video shot by Blaine Ludy, senior producer of the Seattle-based production company Super Frog Saves Tokyo (sfst.com). This image is a still from the video—shot with a RED EPIC camera at 3K—that not only exemplifies the increasing popularity of video this year, but also the trend of photographers extracting stills when the moment is just too good not to pause and share. —JG

"Ilona Royce Smithkin, 2013," by Ari Seth Cohen



©Ari Seth Cohen

My grandparents were a huge influence in my life, so I'm naturally drawn to photographers who respectfully capture the humor and style of seniors. Ari Seth Cohen is a street photographer whose blog, Advanced Style, and two subsequent books do just that. His portraits—this one of artist Ilona Royce Smithkin—reveal the whimsical lives of people who don't quit on personal style just because they have a few wrinkles.—JG
---
Amy Wolff's Picks
PDN Photo Editor

"The Boxing Life," by Steven Counts



©Steven Counts

I like Steven's project on "The Boxing Life," and especially this image, which appeared first in PDN's Photo of the Day blog, in which Peter Quillin, aka "Kid Chocolate" is getting a haircut. There's no real indication in this photo who Kid Chocolate is, except for the little squint in his right eye. To me, it indicates a fighting spirit. —AW
Adam Linke's Decisive Moment



©Adam Linke

This image was published in PDN's May 2013 wedding-themed issue in a piece about wedding collectives. Photographers in The Decisive Moment are photojournalists, and don't interfere with the weddings they shoot. Instead they wait for the right moment, like this one. Not only did Adam capture an intimate moment between the newly married couple, but he also captured the expressions of wedding attendees looking on in the window. It's a very real, but carefully composed, image. —AW

"Small Town Hip-Hop," by Jared Soares

©Jared Soares
I am a fan of the photo story. Jared Soares spent about two years photographing local hip-hop artists in Roanoke, Virginia, for his "Small Town Hip-Hop" project. He didn't have an easy start, as some of the guys were skeptical about what he was really doing. Soares is a long-time fan of hip-hop, and admires the hard-working spirit and positive energy these artists have.
—AW
---
Jason Groupp
WPPI Director of Education and Membership

Fer Juaristi's Intimate Moment



©Fer Juaristi

I love the soft feel of the light in this image. You can feel the closeness between the couple. As wedding photographers it's our job to "connect" with our clients, and Fer Juaristi is one of those people who does it so well. Even though we know this is a posed photo, you can feel how comfortable they are and the result is a great combination of technique and direction. —JG

Subway Love, Elizabeth Lloyd



©Elizabeth Lloyd

Love me some NYC! It's no secret I'm a sucker for anything Big Apple-related, so when it comes to a shot of a bride and groom in the subway, I'm drawn in like a bee to honey. I love the emotion and the way this is framed. Moments like this are not often captured, which is what makes this moment even more special. In an instant, no words are needed to describe this photo, the groom's face and uneasiness of his hands says it all. —JG

"Escape," Vadim Fasij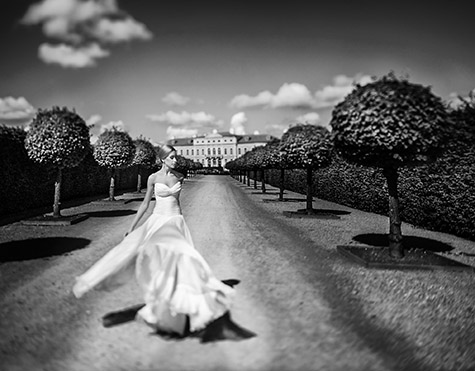 ©Vadim Fasij

There's nothing I love more than a beautiful bridal photo, especially when that photo gives you some idea about the environment as well. This is one of those images that does that, but the surreal feel also works really well. The combination of the way her dress flows, along with the rich blacks in the trees, along with the beautiful puffy clouds draws me in and makes me pause. —JG

---
Lindsay Comstock's Picks
RF Senior Editor

Amanda Norgaard by Billy Kidd



©Billy Kidd

I first got wind of Billy Kidd's work when we featured him in Rangefinder's June article "Social Butterflies," profiling his Tumblr success for his blog iwasshotbybillykidd.com. But Kidd isn't a social media flash-in-the-pan. Rather, his fashion and celebrity portrait editorial work has appeared in Forbes Magazine, Glamour and Blackbook, to name a few; and his fine-art nudes and decaying flowers series are on display at Masters & Pelavin gallery in New York City through December 7. Here, an outtake of model Amanda Norgaard for the cover of WWD's Beauty Inc magazine, is evocative of his graphically powerful portrayal of femininity. —LC

"Face in the Crowd," by Alex Prager



©Alex Prager

This image from the series "Face in the Crowd"–composed of actors Los Angeles-based artist Alex Prager meticulously staged on a set constructed for this purpose–is a poignant example of issues in contemporary image-making. It is an homage to Technicolor and a blending of reality and fiction; it speaks at once to the idea of individualism and community, while being subtly voyeuristic. This series will be shown in several gallery shows and art fairs in the coming year. The work is currently on display in Prager's first U.S. Museum exhibition, "Alex: Prager Face in the Crowd" at the Corcoran Gallery of Art in Washington, D.C., through March 9. —LC

Olya Vysotskaya's Fine-Art Wedding



©Olya Vysotskaya

The work of fine-art-turned-wedding photographer Olya Vysotskaya (one of this year's 30 Rising Stars of Wedding Photography), is particularly striking to me because of her control of the film medium, her uncanny eye for composition and her ability to catch the energy in a moment. This image, shot with a Leica M6 and Portra 400 color film, is fresh and exuberant. "When I photograph weddings, I look for moments that are outside of the typical and banal," Vysotskaya says. "I think I might have anticipated this [shot] before it actually happened. Sometimes you need to wait for something to make a photograph interesting; someone walking into your shot, destructing the predictable, or perhaps it could be just a sudden gust of wind. What I really loved about that particular wedding, besides the wonderful energy of the couple, was that the girls seemed to be in the present moment all the time, breathing it in fully. It made my work so much more enjoyable."—LC