Pinterest Factor
by Jessica Gordon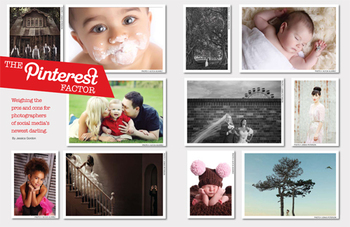 PHOTOS © ALYCIA ALVAREZ AND JONAS PETERSON


June 01, 2012 —
Once you've saturated your Facebook and Twitter feeds with all the business and self-promotion traction you can get out of them, what's next on the social media horizon? Some photographers say it's Pinterest, the virtual inspiration board where users can "pin" whatever suits them: Vacation destinations, summer fashion looks, birthday wish lists—and most notably for photographers—inspirational photographs. The site, funded by venture capitalists, has had a serious take-off in the last six months, and according to a CNN Tech report in February 2012, Pinterest drives more visitors to third-party Web sites than Google+, YouTube and LinkedIn combined.

With the visual nature of all this pinning, it's arguably the most ideal social media space for wedding and portrait shooters to be "seen" on the Internet. "Pinterest provides new brand exposure to a captive audience," says Julia Cantor, senior digital publicist at Atlanta-based digital marketing agency, Engauge. "The platform is great for photographers of all levels; it puts everyone on the same playing field because there aren't any options for paid account customization, so the only investment is the time it takes to develop and maintain boards." So how are established photographers using the site to promote their brands and businesses? We asked a few.

PIN-TO IT
For Dallas-based family photographer Alycia Alvarez (who has been using Pinterest since the summer of 2011), the site's interface has been nothing but positive. "Originally, I got sucked into it for fun," Alvarez says. "Creating my own pin boards for recipes, funny little quotes, bucket list-type of things and decorating or home ideas."

But the more she used it, the more she realized that clients and other photographers were following her pins and it could be a useful tool. For clients—who constantly ask what they should wear to photo shoots—Alvarez started creating boards with color palettes, themes and outfit suggestions. "It's nice to be able to say to them 'No, you don't have to wear the exact same polo shirt, just the same shade,'" Alvarez explains. "And they can use [my mood board] as a reference."

She also says it's a way for clients to get to know her personality. "I use it the same way as my Facebook page or blog—your clients want to know you as a friend, so it's a great place for them to see what you like or things you have in common."

Alvarez also creates boards of her own work for users to re-pin, and is using the site's features on her own Web site: "I just added a 'Pin It' functionality to my Wordpress blog," she says. "I can pin straight from my blog; or for clients who have Pinterest, if I blog [a portrait of] their little girl, they now have the ability to pin my work." (A "Pin It" button can be downloaded from Pinterest's homepage; on the upper right-hand corner, select "About," which reveals a drop-down menu and then a "Pin It Button" option.)

Destination wedding photographer Jonas Peterson (based in Brisbane, Australia) gets an average of 250,000 hits per month on his Web site jonaspeterson.com, and is fully booked a year in advance, with 80 percent of inquiries coming from outside Australia. The page views and attention used to be largely driven from wedding blogs, but that's changed during the past year.

"Yesterday, I had 1,500 hits just from Pinterest," he says. "It's become an invaluable tool to introducing people to my work. About 50 percent of what I do is international destination weddings and most of my clients are on the other side of the world in Europe and the U.S., so I don't focus so much on my local market anymore. I read about [the site's popularity] on Web forums and the media, so I figured something's going on here, and I thought it was perfect for us as wedding photographers."

A former advertising copywriter, Peterson says that he uses all the social media tools he can. "[The practice of] people coming into our studio to look at our work is less important when you're going after out-of-state and international clients; 95 percent of people look at my work over the Internet, so not to use the tools available seems ludicrous. I look at it as 'how can I use Pinterest to the best of my advantage?'"

In fact, Peterson has done just that in the past year. First, like Alvarez, he added the "Pin It" button to the end of each of his blog posts. "It's a matter of trying to make it as easy as possible for people to pin my images; I only have a Wordpress blog, I don't have a portfolio site, which makes it easier," he says. "The functionality is OK now, but I'm talking to a designer to make it even easier for people to pin."

He's also looking to work with couples using Pinterest to get to know them, i.e. asking them to create mood boards with the images and themes they like. "It won't affect how I shoot, but at least I can use it as a reference tool," he says.

Finally, on Peterson's own Pinterest page, he wants to not only share his own work, but also his taste in photography. He's found it's another way to interact with potential clients as well.

"If you type into a browser: pinterest.com/source/jonaspeterson.com [or your own site], you'll see everyone who's pinned your images lately, and also the comments written about your images," he explains. "I can see if [the re-pinner] is a photographer or a bride planning a wedding, and I can comment back saying 'thank you.' I don't need to throw a price list at them, it's just got us talking. Letting them know that I appreciate them liking my images; it's a very simple thing to do."


UN-PINTERESTED
Of course for all the raves that Pinterest is receiving for its easy interface and page view potential, there are also voices of concern based on copyright issues. "Because the potential to go viral is so strong on Pinterest, there are concerns that original content is being pinned and then re-pinned without the owner's knowledge, or approval, which creates a potential for thousands of copyright infringements from a single upload or pin from the Web," Cantor says. "While no known court cases have been filed as of yet, Pinterest has certain measures in place, such as a Take Down Policy, and an official stance on copyrighted images. Even so, Pinterest,—like ISPs, YouTube and others—claims protection via the Digital Millennium Copyright Act (DMCA)."

Pinterest's stance on copyright is that you may re-pin or pin any content to your mood boards, but re-using said content for your own Web site, personal use or for profit is forbidden. According to its Web site: "Pinterest will respond expeditiously to claims of copyright infringement committed using the Pinterest Web site that are reported to Pinterest's Designated Copyright Agent." (More detailed copyright information is available in our sister publication, PDN.)

Aside from copyright issues though, some photographers have voiced strong opinions about pinning their own work. Food stylist and photographer Hélène Dujardin's decadent dishes receive numerous pins, but Dujardin says she is in no way the source. "Indeed, people pin my images, but I have not gotten any work from Pinterest lookers—or if I did, they did not volunteer that information." she says. "I also do not pin my own images on Pinterest. To my own fault, maybe, but there are already lots of avenues in social media to promote oneself that Pinterest should be left to be what it was intended to: a giant inspiration board, not another way for people to promote their own work, but rather the work of others."

Still, photographers like Peterson contend that it's more about being active on the site than promoting one's own work (and it should be noted that Peterson was contacted for this article after being originally spotted on Pinterest).

"It doesn't make sense not to get on board," he says. "I want people to see my work, and it's just another way to show them my work. The more it's out there, the more it's published and noticed, and more I get eyes on my site. If [someone] finds a photo of mine on Pinterest, I want to lure them to my Web site. It's invaluable in that way."
---
Jessica Gordon is associate editor at Rangefinder. 
E-mail her at

jessica.gordon@nielsen.com

or follow her (meager) pins at

pinterest.com/jessicadgordon.
You Might Also Like

Everywhere we turn lately (no pun intended), we're unearthing more tips on the fine art of posing subjects. In this issue, industry experts share useful pointers to help you elevate your portraiture whether you're shooting wedding portraits, high fashion, newborns and families, or even pets.
Read the Full Story

»
How this successful filmmaker and his top shooter, Niño Gallego, use lighting to make a seamless leap from stills to cinematic motion.
Read the Full Story

»
Tamara Lackey gets the photographer, Photo Ignite leader and imaging-tools innovator to open up during this candid interview.
Read the Full Story

»